What is a Kestrel?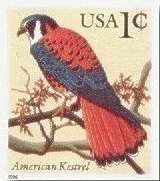 The American Kestrel is the smallest and most commonly seen falcon in North America, and one of the most beautiful raptors in the world. Formerly called the "sparrow hawk", kestrels have a 20-inch wingspread, a little bigger than a large robin. The name comes from its distinctive "klee-klee-klee" cry. Kestrels can often be seen perched on rural power lines or soaring in search of food, hovering on one spot or flying in "circle-8s" before swooping down on their targeted prey. Kestrels feed on large insects such as grasshoppers, on rodents, small amphibians and birds. The female does most of the hunting. American Kestrels are found in the 48 contiguous states year around, north to Alaska in the summer, and south to the south tip of South America(1).
Kestrels like to nest in cavities, many of which are man-made specifically to attract Kestrels for their hunting skill. "Kestrel boxes" have been built everywhere from backyards to interstate highways to help the kestrel population thrive and kill more rodents. The next step after the kestrel box was the "box cam" to watch the kestrel pair incubate their eggs and feed their chicks to fledgling age. Plans for a nest box are here.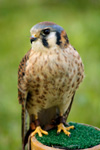 In the Middle Ages, when falconry was a very popular sport, the social rank of the falconer was indicated by the species of falcon flown. American Kestrels, then known as "sparrow hawks", were flown by priests(2). Today they are flown by apprentice falconers, a practice that is controversial(3).
Kestrel Website Design has taken the American Kestrel as our logo and mascot out of a fondness of respect for this native American bird species, along with its ever-vigilant approach to its work and changing environment.
Like the American Kestrel, Kestrel Website Design swoops in on the target.